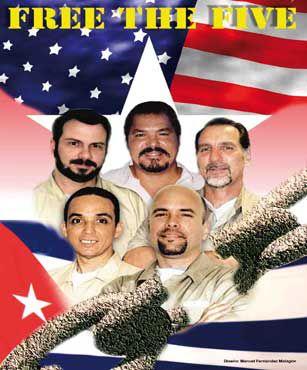 Mr. President:
I know that your advisers maybe don't deliver you this kinds of letters, I hope you find interesting, that on the occasion of Father's Day, a Cuban teenager write to the president purely with human intentions.
My parents taught me to respect everyone, but especially to the senior citizens and people like you, who have authority and culture. Because of them and my teachers. I know a lot of things about the history of my country and other countries including the United States of America. We have very similar roots in terms of aboriginal ancestry, European and African and our hard struggle for independence is originating. I find common points between the thinking of Marti and Linconl, certainly you remember that our Apostle, who wrote an important part of his work and organized the war for our emancipation from there, he known very well the North America.
You enjoy fine art and is informed, should know that Alicia Alonso has been acclaimed on stage with your Ballet Theatre of New York, Chucho Valdes and Omara Portuondo won Grammys, the film "Fresa y Chocolate" ("Strawberry and Chocolate") was nominated for an Oscar, and more recently the group of children "La Colmenita" ("The Beehive") made the diplomatic employees dance in the halls of the UN.
I am passionate about the sport, my dad taught me to play baseball and, like him, I follow the team "Tigers" of my Ciego de Avila province, but also to that of industrial capital, respect for American players when playing with I put our all. Their athletes are without doubt the best in the world, especially basketball. What do you think of Cuban athletes?
I like to draw, as my father, and my mother taught me to write poetry, to the three of us interested the literature, I enjoy both Tom Sawyer by Mark Twain as "La Edad de Oro" ("The Golden Age") By José Marti. I'd like to read the Color Purple by Alice Walker, thanks to my school and my family I think I know enough English to read it.
How could we do together for the nature of our two countries, exposed to disasters such as hurricanes I like pets, but I prefer the animals in their natural environment, if you see our documentary about the wildlife you will enjoy them, although I recognize that your scientists work is great. Do you know of our achievements in medicine and biotechnology? We offer it to many human beings in the world. And that American students are formed as doctors at ELAM? In other circumstances this would be common pride.
My mother is a beautiful woman, sensitive, cultured, my father is brave, fair, and with a great sense of humor, they love each other since they first met and fought a lot to be united, that love has passed to me without a doubt.
Mr. President, I would like to meet personally, but it will not be soon, some people impede it, and not only the customs officials or your Secret Service staff , is just that... unfortunately I have not been born. Among those people are you, that just looking at the most sensitive part of your heart will find the possibility that these two wonderful human beings, separated by more than fourteen years, are gathering at last. From this contact of infinite love I will be born certainly.
With all due respect, greets you.

Gerardo Adrian.

PS: Find a letter from my father Gerardo Hernandez entitled "To my unborn child" if you read to the end, you´ll feel a lump in your throat and a huge desire to hug your daughters.